Hackers 'broadcast hoax zombie alert' on US TV station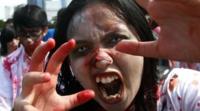 A US TV network says someone hacked into their station after it alerted viewers to a false zombie apocalypse.
People watching KRTV in Montana heard a man's voice claiming that the "bodies of the dead are rising from their graves."
The alert also claimed the bodies were "attacking the living''.
The TV network confirmed there was no emergency and that hackers had managed to get into its Emergency Alert System.
There are reports the hoax generated at least four calls to police to see if it was true.
It happened during the broadcast of a Jeremy Kyle-type discussion show about "teen cheaters".
On its website, KRTV posted a notice saying: "Someone apparently hacked into the Emergency Alert System and announced on KRTV and the CW that there was an emergency in several Montana counties."
"This message did not originate from KRTV, and there is no emergency."