In pictures: North Korea's politics and history
12 February 2013

From the section

Politics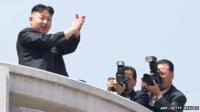 North Korea has warned it is entering a "state of war" with South Korea and says it may deploy nuclear weapons if there is any further provocation.
The US says it's taking the threats "seriously" as tensions in the region rise.
However, few think the North would risk full-blown conflict, and the two sides have technically been at war since 1953 as no peace treaty has been signed.
An armistice at the end of the Korean War was never turned into a full treaty.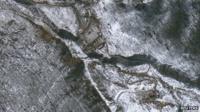 This is a map from Google showing the site in North Hamgyong province, where nuclear testing is thought to have occurred last month. The country carried out similar tests in 2006 and 2009.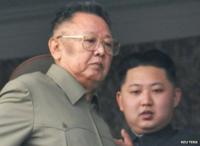 The secretive country is led by Kim Jong-un (right), who inherited the position from his father Kim Jong-il (left). When Kim Jong-il died in December 2011, the country went in to mourning.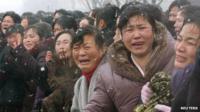 After his death was announced, many North Koreans were pictured crying hysterically. People outside of the country questioned whether the grief was genuine, or a result of the oppressive regime.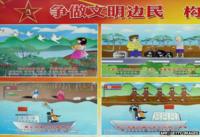 The above images come from a warning sign on North Korean border fence near the Chinese town of Dujiagou. It advises people not to throw items across the border to North Korea, not to take pictures of soldiers and to "cherish a good life, abide by border regulations".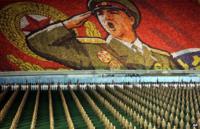 North Korea is known to have large gatherings known as mass games, which happen in a stadium that can hold 150,000 people. Thousands of people participate in the display of gymnastics, drama and other sports. Kim Jong-il said that these events helped people develop communist traits.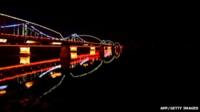 North Korea has suffered from poverty and famine in the past few decades. Here a bridge from South Korea ends in darkness, as North Korea struggles with getting electricity supplies. Twenty-four million people live there and the government controls all TV and radio.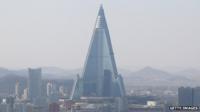 Ryugyong Hotel, at over 300m, is the tallest structure in North Korea. Building work started on it in 1987 but stopped in the 1990s when the country had an economic crisis. Construction work has since restarted and it is due to be opened later in 2013.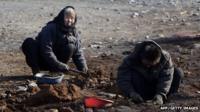 North Korean workers are seen digging in freezing cold temperatures. Aid agencies have estimated that up to two million people have died since the mid-1990s because of food shortages caused by natural disasters and economic problems. The state is also accused of human rights abuses. The UN has already put sanctions in place, on items including military and technological materials and luxury goods, as well as a set of financial sanctions.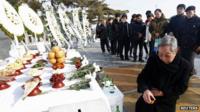 Few people are allowed to leave North Korea and illegal attempts can result in a sentence at a labour camp. Here, a memorial in South Korea honours families left behind in North Korea, by people who have successfully crossed the border.
Newsbeat guide to... North Korea
North Korea's missile programme