Stafford inquiry: Nan's death will haunt us forever
6 February 2013

From the section

Health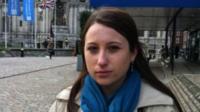 A public inquiry into hospital care in England has come up with 290 recommendations for keeping patients safe in the future.
It's after abuse and neglect contributed to the deaths of hundreds of people at Stafford Hospital.
The inquiry by Robert Francis, which looked at why the system did not prevent the problems or detect them earlier, says staff should be prosecuted if they cover up mistakes.
The prime minister has apologised to families of those affected.
Twenty-three-year-old Laura Hopley's grandmother Bella Bailey went into Stafford Hospital for a hernia operation but died eight weeks later aged 86.
She said: "We stayed there 24 hours a day for eight weeks, which is something we shouldn't have had to have done.
"The things we witnessed will haunt us for the rest of lives. Night after night of patients screaming, lying in their own urine and faeces, left without water.
"I watched my nan, who was a strong woman, become a fragment of that person.
"The family had to care for other patients, doing the job nurses should have been doing."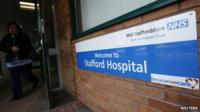 New leaders
The public inquiry is the fifth major investigation into what happened at Stafford Hospital.
Other recommendations include it becoming a criminal offence if information about poor care is hidden.
Failing to follow basic standards that lead to death or serious harm could also lead to prosecution.
Laura Hopley says she is happy with the outcome of the inquiry but says the problems lie at the top of the NHS.
"Robert Francis has set out these core principles that leaders within the NHS need, and we feel the current leaders do not have them," she said.
"Unless these people are removed it's not going to change at all."
Bella Bailey's death led to Laura Hopley's mother, Julie Bailey, to start a campaign group, Cure the NHS.
She thinks the same problems could be happening at other hospitals but says most of the people that work in the NHS are good people.
"There are people who are there to care and it's these people we need to look out for," she said.
"Some nurses at the time begged us, with tears in their eyes, to put in complaints because they were under so much pressure.
"Without change these good nurses and doctors will never be able to succeed."