Jesus Christ Superstar tour delayed from March to October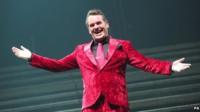 The arena tour of Jesus Christ Superstar has been postponed from March until October.
Organisers say the stage show, which features Chris Moyles and Melanie C, has been delayed because of "enormous demand... with tours in Australia, Europe and USA to be announced soon".
Tickets already bought for the March dates will be valid in October.
The production received mixed reviews when it opened in 2012, but more than 150,000 people saw the first run.
Speaking when the new dates were first announced in December 2012, Sir Andrew Lloyd Webber, the show's composer, described how the audience's reaction "surpassed our expectations".
He added: "The response from audiences across the UK and Ireland was overwhelming and the show was everything I had hoped for.
"It's great news that fans will have a final chance to see the show with the original arena tour cast of Tim Minchin, Mel C, Chris Moyles, Ben Forster and Alex Hanson."
Cast returning
In addition to the venues previously announced for March, organisers have also added dates at the Hydro in Glasgow and Leeds Arena to the tour.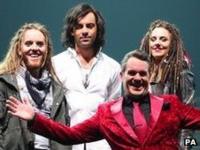 The production sees the winner of ITV talent show Superstar, Ben Forster, continuing with the role of Jesus Christ.
He will be joined on stage by existing cast members Melanie C, who plays Mary Magdalene and Chris Moyles in the role of King Herod.
Tim Minchin will also return as Judas Iscariot.
Refunds will be available for people who have purchased tickets in March but who cannot make the dates in October.
Tickets for the new dates go on sale on Friday 15 February.