Mumford & Sons announce 'stopover' gig for the UK
6 February 2013

From the section

Music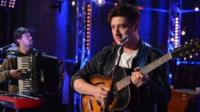 Mumford & Sons have announced the dates and line-ups for their five Gentlemen of the Road stopover gigs in 2013.
One of these is set to take place in Lewes, East Sussex, in July where the band will be joined by acts including Vampire Weekend and The Vaccines.
Mumford & Sons will also visit Simcoe in Ontario, Canada, as well as US dates at Troy in Ohio, Guthrie in Oklahoma and St Augustine in Florida.
"We really couldn't be more excited," says a statement on the band's website.
'Local people'
The first series of stopover gigs were in 2012, in places like Galway in Ireland and Monterey, California.
Commenting on the new set of dates, the statement says: "The spirit of the project remains: a music festival that celebrates local people, food and culture, where everyone pitches in and everybody gets something back.
"It's a real privilege that being in Mumford & Sons has allowed us to be able to shine a light on these towns, places that sometimes don't get the love they deserve, and to be the facilitators of great musical coming-togethers.
"But there's another rule that applies to both football and music. Doing the Stopovers means that we get to invite a whole bunch of other people to watch these bands with us.
"And that, the shared experience, is basically all that live music is about."
Other artists confirmed for the North American leg of the tour include Willy Mason, Alabama Shakes and Fun.
The Lewes event will be the first Gentlemen of the Road date for 2013, starting on Friday 19 July.
The campsite will be open from 9am that morning and people will be able to stay on site until the Sunday.
Mumford & Sons are up for six Grammy Awards, which take place on 10 February in LA.
They've told the BBC that the nominations are "good for business".
The band saw their album, Babel, sell more than 600,000 copies in the first week of release in the US.
They will also headline T in the Park later this year.
Tickets for Gentleman of the Road go on sale on Friday 8 February at 11am local time at each stopover venue.