Kristen Wiig confirmed for role in Anchorman sequel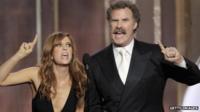 The director of Anchorman: The Legend Continues has announced that Kristen Wiig will appear in the film.
Her participation in the comedy had already been rumoured, with Adam McKay, the director and writer confirming the news on Twitter.
"Just found out Kristen Wiig officially on board for Anchorman 2. Cannonball!"
There is no confirmation on the role she is playing, although it is rumoured she will be a love interest for Brick Tamland, played by Steve Carell.
Co-star Christina Applegate also tweeted following the announcement.
Kristen Wiig earned a best original screenplay Oscar nomination in 2011 for her film Bridesmaids.
"So excited Kristen Wiig has joined our cast for Anchorman 2," she wrote. "Going 2 b best movie ever made. Besides the best movies ever made."
Anchorman: The Legend Continues will see Will Ferrell reprise his role as Ron Burgundy, the 1970s newscaster.
Also back is David Koechner as sports correspondent Champ Kind.
Paul Rudd, who will again be playing reporter Brian Fantana, has already told Newsbeat he thinks it is going to be inevitable that some fans will be disappointed by the sequel.
Anchorman: The Legend Continues is due out 20 December 2013.