Thunderbirds to be remade for ITV series in 2015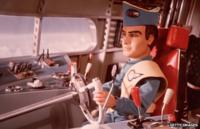 The team behind visual effects on films like The Hobbit and The Adventures Of Tintin is to help produce a remake of 1960s TV series, Thunderbirds.
The Weta Workshop, which has also worked on King Kong and Avatar, is co-producing the new show with New Zealand-based Pukeko Pictures.
Thunderbirds Are Go! will broadcast on ITV in 2015 and will feature CGI animation and live-action model sets.
The show was created by Gerry Anderson, who died in December aged 83.
'Respected brand'
Thunderbirds, created by Anderson and his second wife, Sylvia, was first broadcast on ITV in 1965.
With the catchphrase "Thunderbirds are go!" and featuring the secret emergency service run by the Tracy family and helped by London agent Lady Penelope and her butler, Parker, it became popular again in the 1990s.
In 1966, Thunderbirds was made into a major feature film, which was followed by a sequel two years later, Thunderbird 6.
A live-action film version of Thunderbirds was released in 2004.
ITV Studios' UK managing director Denise O'Donoghue said: "Thunderbirds is a highly respected brand that continues to hold recognition around the world. This cult series is often credited as changing the history of animation and action-adventure."
ITV and children's channel CiTV will broadcast the new series in 26 half-hour episodes.
Anderson, famous for the use of "supermarionation", or the use of modified puppets, was also known for creating TV Shows Captain Scarlet and Stingray.