Russell Brand announces charity gig to tackle addiction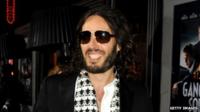 Russell Brand has announced that he will be putting on a concert to raise money to help people with drug and alcohol addictions.
The gig on 6 March, which is part of Comic Relief, will feature music and comedy performers.
Speaking to Newsbeat, the actor and comedian said his own problems with substance abuse made him want to help.
"I was a terrible drug addict myself," he said. "I've been helped so if I can help other people that's a good thing."
Russell Brand is now clean and thinks it's important that other people with addictions have access to the kind of support he received.
He said: "When dear old [Amy] Winehouse died it messed me up because I knew something could have been done if the information had been available."
The charity event will take place at Wembley Arena and will feature musicians including Jake Bugg, Jessie J, Rizzle Kicks, Emeli Sande and Nicole Scherzinger.
The night will also include comedy acts Simon Amstell, Frankie Boyle, Russell Brand, Jimmy Carr and Noel Fielding.
There are more acts to be announced.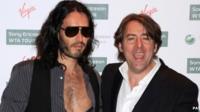 A pre-recorded BBC radio show that Russell Brand broadcast with Jonathan Ross caused controversy in 2008 when the pair left rude messages on the answerphone of actor Andrew Sachs.
They both left the corporation as a result of so-called 'Sachsgate' but have reunited for the first time since then on television for Jonathan Ross' ITV chat show.
"It was a naughty and regrettable affair but Jonathan is a friend of mine as it happens and a brilliant broadcaster, so it's always nice to hang out with him," said the 37-year-old.
The comedian and actor has been working in Hollywood and has featured in films including Get Him to the Greek, Arthur and Rock of Ages.
His next film comes out later this year. As yet untitled, he will co-star with Octavia Spencer and Julianne Hough.
Brand says he is also making a return to stand-up.
"I'm going to come on tour, to this country soon," he said. "I love it here."
Follow @BBCNewsbeat on Twitter
Give It Up For Comic Relief is on 6 March and will be televised on BBC Three.