DJ Zedd 'made a lot of songs' for Lady Gaga album Artpop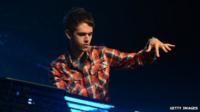 Producer and DJ Zedd has said he and Lady Gaga have made "a lot of songs" for the singer's upcoming album, Artpop.
The 23-year-old has been collaborating with the Grammy Award winner on her third release, due out this year.
However, he remained tight-lipped on which tracks would make it onto her final cut.
"She will decide how many will be on her album and I don't know how many that will be," he said.
Zedd, who's real name is Anton Zaslavski, also clarified quotes which suggested he thought Lady Gaga was a long way off finishing Artpop.
He said: "There's been an interview where someone basically took a part of what I said and turned it into what everyone would love to hear - which was not true."
In-demand
On his collaborations with Lady Gaga, Zedd explained: "[We] just started collecting ideas. I didn't know which song would be for her.
"If she didn't like a song I'd probably use it for myself or maybe she'd sing it for me. We just made music.
"I feel it sounds right in the middle between Zedd and Lady Gaga."
Zedd, like musicians such as Calvin Harris and Skrillex, is one of the current crop of in-demand young producers.
His debut album, released in 2012, featured collaborations with Ellie Goulding and Ryan Tedder from OneRepublic.
He's now preparing for the release of his new single, Clarity, featuring British singer Foxes.
Speaking about the collaboration, Foxes, aka Louisa Rose Allen, said she felt "honoured" to be singing on it.