Rihanna confirms Chris Brown reunion in Rolling Stone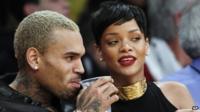 Rihanna has confirmed that she is back together with ex-boyfriend Chris Brown in a magazine interview.
Four years ago, the rapper attacked Rihanna on the night of the Grammy music awards, was charged with assault and put on probation.
The 24-year-old singer claims in an interview in Rolling Stone magazine that she is now ready to go public with the reunion.
"If it's a mistake, it's my mistake," she admitted.
There have been rumours that the couple were back together after they collaborated on songs and appeared in photos together.
The singer insists in the article that Chris Brown is now "different" to the man who assaulted her back in 2009 and feels "disgusted' with his behaviour".
She says her history with the 23-year-old rapper is "not the cutest puzzle in the world".
She added: "You see us walking somewhere, driving somewhere, in the studio, in the club, and you think you know. But it's different now."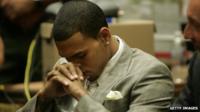 "We don't have those types of arguments any more. We value each other.
"We know exactly what we have now and we don't want to lose that."
The singer also said she could handle the comments about her decision.
"I decided it was more important for me to be happy," she said.
"Even if it's a mistake, it's my mistake. After being tormented for so many years, being angry and dark, I'd rather just live my truth and take the backlash. I can handle it."