One Direction defend 'dirty' lyrics claims from press
31 January 2013

From the section

Music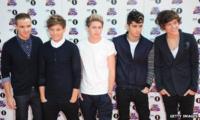 One Direction have defended themselves against claims some of their lyrics are inappropriate for younger fans.
One Direction's Louis Tomlinson was reacting to criticism from British newspapers accusing the band of being sexually suggestive.
"The thing is with the way the lyrics read, they read how you want them to read," he said. "If you want to read them with a dirty mind, fair enough.
"But if not, it can mean a completely different thing."
Fans approve
Song lyrics which have been pinpointed include lines from their song Live While You're Young.
They read: "It's now or never, don't overthink, just let it go, and if we get together, get together, don't let the pictures leave your phone."
Band member Harry Styles said: "I think you read into it what you will. We are 18, 19 and 20-year-old boys. The fans seem to like it, so it's all good."
The fivesome are filming a documentary about life in the band.
The film is being directed by Morgan Spurlock, who made 2004 documentary Super Size Me, where he claimed to eat nothing but McDonald's for a month.
Comic Relief
One Direction have also recorded this year's official Red Nose Day single, One Way or Another.
The band will perform the single, a cover of Blondie's 1978 hit, for the first time at this year's Brit awards on 20 February.
Part of their work with the charity also saw them visit school children in Ghana.
"One thing that was amazing was the spirit of the people out there," said Liam Payne.
"We went to a school which wasn't much of a building. There were no windows or anything."
Follow @BBCNewsbeat on Twitter