UK's music festivals offer 'same look', says organiser
1 February 2013

From the section

Music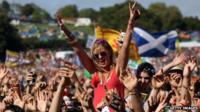 The organiser of the UK's newest major festival says some big music events have "merged into one in terms of look and feel and service".
Jim King runs British Summer Time in London's Hyde Park and says his company has launched a "unique" show.
Along with music it'll feature food markets, film set-style "zones" and a micro-brewery.
Other major festival bosses have told Newsbeat that top artists are still the biggest attraction for fans.
British Summer Time will feature six days of music beginning at the end of June. Bon Jovi were the first headliner to be confirmed.
"The research is there. It's very clear," says Jim King. "There is a homogenisation, if you like. A lot of events are merging into one in terms of look and feel and service.
"Creatively we needed to come up with something drastically different from other shows and what had taken place in the park previously."
Demanding more?
Ian Forshew, boss of Wales' Beach Break, thinks fans now want a different experience at festivals.
"The big festivals can become quite similar as they mainly compete for ticket sales through their line-up but ticket holders want more now," he reckons.
"As a result, some major festivals have disappeared over the past few years."
John Giddings, boss of the Isle Of Wight festival, says music fans are demanding "a better all-round experience".
"They do want better food, drink and loos," he says.
"It's a rite of passage now for a young person to go to a festival as opposed to going on a holiday to Ibiza."
Established events
Not everyone agrees that big events have become the same.
Melvin Benn runs the Reading & Leeds and Latitude festivals and says broadening the festival going experience isn't a new idea.
"Glastonbury, Latitude, Reading and Leeds, Bestival - we've been creating different areas for years and years," he says.
"All the boutique festivals are testament to it."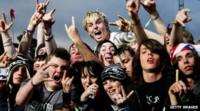 Andy Copping puts on the Download festival for Live Nation and says the success of the big UK festivals come down to a single factor.
"If you haven't got the big name acts it doesn't matter how great the toilets are or how fantastic the food is," he says.
"It's never going to change."
The high-profile events will often have the acts they book sign exclusivity deals, ensuring they don't appear on other festival's line-ups.
This year the UK and Ireland's festival map looks slightly different.
Glastonbury is back after a year's break and Wireless and Hard Rock Calling have a new home in the Olympic Park.
But many small or medium-sized events like Sonisphere and The Big Chill are finding it hard to survive and are not returning this year.
Others, such as Kent's Hop Farm Festival, have gone out of business.
Oxegen is yet to announce dates for its event, and Underage, cancelled last year, has not announced its comeback.