Sea urchin sting leaves Leeds student in a wheelchair
28 January 2013

From the section

Health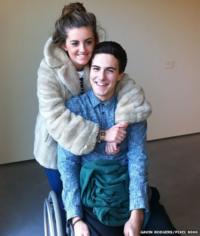 "It's something everyone does at my age," says Callum Hall, as he remembers diving off a boat into the water around the Greek island of Skiathos last September.
"I remember standing on something and thinking, 'Urgh, that was quite sharp'.
"I got back on the boat. Three barbs had got stuck in my big toe. I just saw them as splinters, pulled them out and got on with my holiday."
Callum, 20, had stepped on a sea urchin in the water. The sting caused an infection, which paralysed him.
He says he felt fine until three weeks later, when back home in Leeds, he woke with an "excruciating pain" in his back.
Within 10 minutes he says couldn't feel anything from his stomach down.
"I was struggling to breath," he said. "I felt like I was going to die."
'Emotional roller coaster'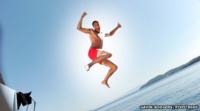 An abscess near his spine had burst damaging the nerves.
It's claimed there is a one in 50,000 chance of having a similar reaction to a sea urchin sting.
Doctors believed Callum had just hours to live and operated on him.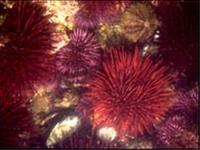 "It's been an emotional roller coaster," he said. "The first month I was so down, depressed.
"I was having nightmares that I could still walk. I used to break down into tears.
"I am determined to do everything in my power to walk. Nothing is going to get in my way."
Callum, who had been studying to be a PE teacher, has started expensive rehabilitation and physiotherapy.
He says his university friends are also organising events to help raise money to buy equipment.
"The NHS only do so much for you then you're on your own," he added.
Paralympics 2016
A few weeks ago Callum moved his toes for the first time.
He said: "When I was in bed for one month all I could see were my toes and I just kept thinking, 'Wiggle, wiggle. Keep moving'.
"Then one day they just began to wiggle. It means I'm not cut off from my legs.
"Doctors have told me to keep going. It means everything to me."
While in hospital Callum said he was visited by British Paralympian and wheelchair basketballer Pete Finbow.
He says it inspired him to try to compete in the 2016 Rio de Janeiro Paralympic Games.
"I'd watched the Paralympics last summer and never thought it would happen to me," he said.
"I was thinking how lucky I was not to be in their situation and admired their strength.
"Those who have sport in their lives while in a wheelchair live a happier life. I channel aggression into motivation."