Ant and Dec developing a silent film comedy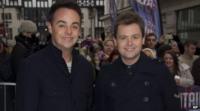 TV presenters Ant and Dec have confirmed they are working on a silent movie idea.
Anthony McPartlin couldn't confirm any release dates or title for the film.
"We're developing an idea at the moment which is a silent comedy idea," he said. "It's kind of in its early stages, but that's something that we are definitely are looking to in the future."
Ant also said the pair would return to acting.
Anthony McPartlin and Declan Donnelly started their careers on BBC children's television show Byker Grove in the late 1980s.
They have recently been travelling around the UK for the Britain's Got Talent auditions.
The pair were unable to accept in person their best entertainment presenters awards at the National Television Awards, where they won the prize for the 12th time.
Instead they gave a video address.
I'm A Celebrity Get Me Out of Here, which the pair also present, was named best entertainment programme.
Ant, 37, added that the two are also preparing for the return of their ITV Saturday night entertainment show Saturday Night Takeaway.
"It's back next month. So we're working on that in between doing this [Britain's Got Talent auditions].
"It's all very exciting and I can't wait to bring it back," Ant said.
"I find myself smiling every time I talk about it. It's looking like great fun."
Strictly Come Dancing beat The X Factor for best talent show at the NTAs, while Downton Abbey took best drama.