Family Guy creator Seth MacFarlane making new comedy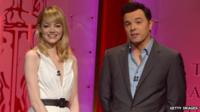 Seth MacFarlane, the creator of Family Guy and American Dad, has been commissioned to make a new live action comedy called Dads.
Best known for his animated programmes, he will be making six episodes of the show about father/son relationships.
The writer will team up with Alec Sulkin and Wellesley Wild, who worked with him on the film Ted.
Their comedy will feature two successful men in their 30s whose nightmare fathers move in with them.
Fox confirmed the series as part of a new set of pilots they are launching.
In addition to making a film and working on his animated comedies, which also include a Family Guy spin-off, The Cleveland Show, Seth MacFarlane will also be hosting the Oscars.
Ted is nominated at the 2013 Academy Awards for best original song.
Seth MacFarlane has also announced that he will be working on a sequel to the film, featuring a grown-up teddy bear who has come to life.