Has Zero Dark Thirty controversy helped its publicity?
Rarely has putting these words, 'based on a true story', up on screen before a movie starts been so controversial.
Yet Zero Dark Thirty has made a virtue of the journalistic approach that writer Mark Boal and director Kathryn Bigelow took in portraying how the CIA found and killed Osama Bin Laden.
Some American politicians have called the film pro-torture, forcing the film-makers and cast to defend their story.
One undisputable fact, is Sony could have a box office hit on their hands.
"They do say don't they that there's no such thing as bad publicity," admits actor Mark Strong when questioned on that very subject.
Strong plays the head of the Afghan/Pakistan division of the CIA in Zero Dark Thirty.
"Personally I could've done without it [the bad publicity] because I think the film is really good.
"It's unfortunate I think but if it gets people talking about it maybe it's not a bad thing."
'Very hurtful'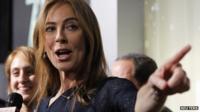 Jessica Chastain has landed a best actress nomination at the upcoming Oscars for her role as the CIA agent driving the Bin Laden investigation.
Meanwhile Kathryn Bigelow has been snubbed in the best director category, she thinks in part because of the controversy surrounding her film.
Chastain shudders at the thought the media storm has helped publicise the film, blurting out "I don't like bad publicity!"
"I know it's very hurtful to Kathryn, people who are saying the film's pro-torture," continues the Oscar-nominee.
"Kathryn's not pro-torture. None of us are pro-torture so the idea that that has somehow been misinterpreted is very hurtful."
Kathryn Bigelow's last film, The Hurt Locker, took $17m (£11m) at the American box office.
Zero Dark Thirty has already made that same amount in its opening weekend in the US and comes out in the UK this week.