US version of Gavin & Stacey to shoot pilot episode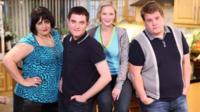 A pilot episode of the US version of Gavin & Stacey - Friends and Family - will be filmed, Fox has confirmed.
It was revealed in October that the American entertainment company had ordered a script to be written.
Fox has also confirmed that the pilot will be a half-hour episode with James Corden and Ruth Jones involved as executive producers.
It's been written by David Rosen and will feature a similar storyline to the BBC version.
The original production company, Baby Cow Productions, is working on the development along with BBC Worldwide.
Gavin & Stacey aired in the UK from 2007 until 2010.
The original series has already been shown in the United States on BBC America.
The production will follow two lovers, played by Mathew Horne and Joanna Page in the UK version, trying to make a long distance relationship work.
US remakes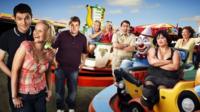 The NBC and ABC television networks in America had previously ordered scripts to be written for the show but dropped plans to make a pilot episode.
Other British TV hits have been remade for American audiences with mixed success.
Ricky Gervais's The Office was remade, starring Steve Carell in the role of office manager.
The Office: An American Workplace has gone on to have nine series and win Emmy and Golden Globe Awards.
The US version of Channel 4 comedy The Inbetweeners started last summer in America but it was dropped after one series by MTV following a series of poor reviews from critics.
Other flops have included remakes of The IT Crowd, Skins and Spaced.
A US version of Only Fools and Horses, called the Kings Of Van Nuys, has also reportedly been shelved.