Newsbeat's guide to... Kim Dotcom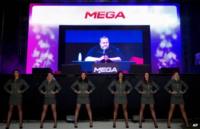 Kim Dotcom has launched a new file-sharing website a year after police in New Zealand raided his mansion on the outskirts of Auckland.
Prosecutors in the US accused the 39-year-old of facilitating online piracy and had his Megaupload site shut down.
The entrepreneur unveiled his next venture, Mega, on Sunday (20 January).
It is a web-based service that allows people to upload and store any kind of file to cloud storage. He says it is fully compliant with the law.
Who is Kim Dotcom?
Kim Dotcom is a German/Finnish entrepreneur, whose real name is Kim Schmitz.
He was born in Kiel, West Germany, on 21 January 1974.
As a 24-year-old in 1998 he received a two-year suspended sentence in Germany for 11 counts of computer fraud, 10 counts of data espionage and various other charges.
He legally changed his surname to Dotcom in 2005 while living in Hong Kong, where he set up Megaupload.
He moved to New Zealand and was granted permanent residence there in November 2010.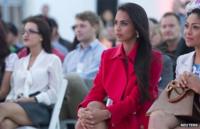 The technology entrepreneur has five children with wife Mona.
His previous website Megaupload.com accounted for more than 4% of the world's internet traffic.
Why does the US want to extradite him to America?
US prosecutors accuse Kim Dotcom and several officials from his company of facilitating millions of illegal downloads.
They claim many users of Megaupload were engaged in pirating content and illegally sharing it.
They say Mr Dotcom, and other managers at Megaupload, profited from that piracy.
Prosecutors claim he made tens of millions of dollars while filmmakers - including The Motion Picture Association of America - and songwriters lost around $500 million (£315m) in copyright revenue.
The internet tycoon has his next hearing in August.
Dotcom, who denies all the charges against him, is on bail in New Zealand and faces up to 20 years in prison if convicted.
How is Mega different from Megaupload?
Mega, like Megaupload, allows users to store and share large files.
It offers 50 gigabytes of free storage, much more than similar sites such as Dropbox and Google Drive, and features a drag-and-drop upload tool.
The key difference is an encryption and decryption feature for data transfers that Kim Dotcom says will protect him legally.
The decryption keys for uploaded files are held by the users, not Mega, which means the company can't see what is in the files being shared.
Dotcom argues that Mega therefore can't be held liable for content it cannot see.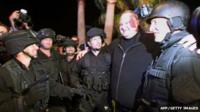 He launched the new site at his multi-million pound mansion where he was arrested last year.
The launch party featured a re-enactment of the raid on his home a year ago, when New Zealand police landed helicopters in the grounds and arrested him in a safe room where he was hiding.
Kim Dotcom said half a million users registered for Mega in its first 14 hours.