Reality television is not 'dead' yet, says Simon Cowell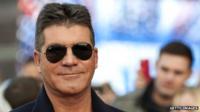 Simon Cowell, the man behind The X Factor, says he thinks reality TV shows still have a future.
The Britain's Got Talent judge talked to Newsbeat ahead of the show's London auditions.
"For bad shows it's dead, definitely," he said. "You've seen with something like the Olympics, when you put something good on, people watch it."
The star is adding another reality TV format to his list, with Food Glorious Food.
The cookery competition will set out to find the best home-cooked comfort food recipe.
Last year The X Factor was criticised for falling viewing ratings.
Britain's Got Talent also had lower audience numbers than previous years and was compared to BBC One's The Voice, which itself started off with good ratings, only for those to drop as well.
"You've just got to try and make a better show than you did the year before. And if you do that there's a chance you can get the numbers up."
Simon says he makes sure his production team are more than aware that the show's success is largely dependent on good contestants and if they are "terrible, you're in trouble".
"I never go into anything thinking the numbers are going to go down, because the first thing I say to our production team is you've got to make a better show than last year."
With falling viewing figures, Simon says he's not worried that this will be the final year that The X Factor is signed with ITV.
"I guess there will be conversations then. It will be on TV for a long time to come. Both shows will.
"But I want to get this year out of the way first before I think about anything else."
Britain's Got Talent is due on ITV later this year.