ASAP Rocky targets Jessie Ware collaboration
18 January 2013

From the section

Music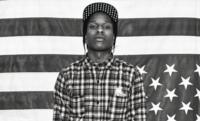 New York rapper ASAP Rocky says he wants to line up a collaboration with London singer Jessie Ware.
The 25-year-old US star said: "I knew about her since last summer. I'm working with her, I'm going to work with her. I want to bad."
He confirmed he'd like any collaboration to appear on his second major label album.
The rapper's debut album Long.Live.Rocky, released this week, features Florence Welch.
Last year Jessie Ware's debut album Devotion was nominated for the Mercury Prize.
ASAP Rocky says she's the next British artist he's aiming to work with.
"I don't care about her being a star, I just think she has a beautiful voice and a lot of talent. I haven't got the chance or honour to meet her yet - I just love her art."
ASAP Rocky was speaking to Newsbeat before BBC Radio 1's Future Festival - you can watch the highlights here.