Dizzee Rascal says his fifth studio album is 'best yet'
15 January 2013

From the section

Music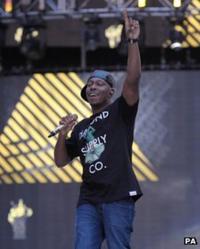 Dizzee Rascal, who performed at last summer's Hackney Weekend, says his latest album will be called The Fifth.
Speaking to Zane Lowe on BBC Radio 1, the grime artist announced more details of the follow-up to Tongue N' Cheek, which came out in 2009.
"I'm at a point where there's so much music," he said. "It's mad.
"It's the best produced album I've done so far because of the calibre of producers I'm working with. It's all big league."
The 27-year-old said he couldn't give away any details on possible collaborations with other artists because deals still had to be done.
He said: "Nothing is in concrete, it's America. It's not worth talking about."
The star says since moving to live in Miami he's had time to relax and is now ready to perform again.
"This past year or so, moving to Miami, I've actually had a life," he said.
"I feel a lot more settled now. I'm coming out ready just really wanting to get out there, perform new music.
"I've been doing the same songs for a little while now, and it's cool, but it's nice to do some fresh material."
Asked if he'd come up with a title for the his fifth studio album he said: "We're going with The Fifth. It's like a party album."