Multiple sclerosis takes Scott Mills' sidekick off air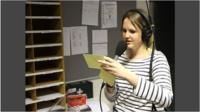 After five years working on air with Scott Mills, Beccy Huxtable is leaving her role on the Radio 1 afternoon show.
She was diagnosed with multiple sclerosis in 2012 but hasn't spoken about it on the radio until now.
"I think it was important that people knew why I was going," she said. "If I can raise a bit of awareness, then that's all for the better.
"You don't want it to rule your life, so I'm going to make positive changes to stop it affecting me."
Role change
Beccy will continue to work as an assistant producer for the BBC network but will take on more responsibilities off air rather than on.
She admits it wasn't an easy decision to take, stressing that "working on Scott's show is brilliant" and that she "absolutely loves it".
However, she says the practicalities of the disease made her review her daily working.
"On a day-to-day radio show there are so many deadlines it's really hard and sometimes if I wake up and I can't walk properly or can't get into work on time, that makes it awkward for everybody.
"I know they've been really supportive but it would make me feel much better if I could go, 'actually I'm going to work from home today,' or 'I'm going to come in later'."
Leaving do
Scott Mills says he's sad to see his 'mate' Beccy leave the show.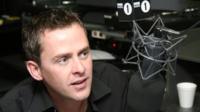 "At the end of the day you need to look after her health first of all and that's what hopefully her new role will do.
"And I still get to work with her at Radio 1, it's not like she's going very far so that consoles me a little."
Becky's final day on air as part of Scott Mill's team will be Friday 18 January but the Radio 1 presenter says he has plans in place.
"Imagine the Olympics opening ceremony and then think a lot smaller.
"But it's going to be good, I've been working quite hard on it myself actually, for once."