Pop and rock top music buying habits for the UK in 2012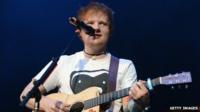 Releases from Emeli Sande and Ed Sheeran meant pop was the most popular type of music for UK album buyers for the second year in a row in 2012.
Rock claimed its largest share of the market since 2008. It was up to 31.3% in 2012, from 29.4% in 2011, according to figures from the BPI.
Albums from Mumford & Sons and Coldplay were credited for helping the increase.
Pop claimed 38.5% of the overall singles market - its largest portion since 2002.
Second was rock (20.7%), which was driven by the success of tracks like Gotye's Somebody I Used To Know and Fun's We Are Young according to the BPI, which represents the UK's big record labels.
R&B's share of the market dropped by 5%.
Albums
MOR/Easy Listening replaced R&B as the third biggest-selling albums genre in 2012.
Led by releases from Michael Buble and Rod Stewart, it claimed 7.6% of the market in the past 12 months.
R&B fell to its lowest share since 1998 but classical, hip-hop and reggae all increased their share on the previous year.
BPI chief executive Geoff Taylor said: "The great range of digital music services in the UK, integrated into many mobile devices, is making it easy for younger music fans to get into buying music."
On rock music's small increase in the albums market Martin Talbot, managing director of the official charts company, said: "With many commentators predicting that guitar music will return over the next couple of years, it is also notable that rock music in its broadest sense also rebounded with Coldplay, Mumford & Sons and Gotye enjoying very successful years in their own right."