Newsbeat's guide to... Mali
14 January 2013

From the section

Politics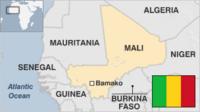 The RAF is preparing to help the French military by flying supplies from France to the west African country of Mali.
French forces there have been targeting the training camps of Muslim extremists linked to al-Qaeda to stop them from trying to take over the country.
The Defence Minister said the extremists had pulled back in the east but that French forces were facing a "difficult" situation against well-armed rebels in western areas.
Muslim extremists have vowed attacks on French soil in revenge for the campaign.
Mali's recent history
An ancient empire dating back to at least the 11th Century, Mali was conquered by the French in the middle of the 19th Century and renamed French Sudan.
The country achieved its independence in 1960.
However, it suffered years of droughts, rebellions, a coup and 23 years of military dictatorship until democratic elections in 1992.
Despite being one of the poorest 25 countries in the world, it was seen as a model of African democracy with a booming economy in the 1990s.
But last year government control of the north of the country collapsed with rebels there and then al-Qaeda-backed Muslim extremists taking control.
Who's who in Mali?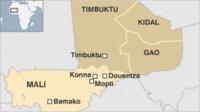 The country's president is Dioncounda Traore.
He was inaugurated in April last year after a military coup had taken place the month before.
But his position is in trouble because of the armed Muslim extremists, who have taken control of the north of Mali, an area equivalent to the size of Spain.
Army officer Captain Amadou Sanogo is overseeing the transition from military to civilian rule.
The main insurgents have been the nomadic Tuareg people from the north of Mali, the recently formed Ansar Dine rebels and al-Qaeda in north Africa.
What's happened and how is the UK involved?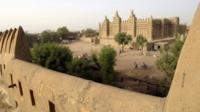 The Tuareg rebels began an insurgency in the 1990s over land and cultural rights.
They gained momentum in 2011 after arms and soldiers from the Libyan civil war started arriving in the country.
After a military coup last March, the Saharan branch of al-Qaeda took over the north of the country.
Tuareg and Ansar Dine rebels merged in May and declared northern Mali to be an Islamic state.
Ansar Dine began to impose Islamic law with the backing of al-Qaeda in North Africa before they both turned on their Tuareg partners and took over major towns in northern Mali.
This is when Mali's president asked France for military help with Britain promising logistical support but no troops.
There is also a plan for thousands of soldiers from surrounding West African countries to support the army in Mali.