Rapper Dappy denies spitting at girls, court hears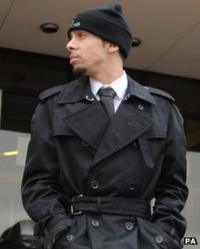 Dappy has denied spitting at two girls, just moments before a fight at a petrol station in Surrey last year.
Giving evidence at his trial at Guildford Crown Court, he claimed that all he'd done was discuss his new single with the girls.
Soon after, a brawl broke out in which three men sustained facial injuries. The N-Dubz rapper, 25, denies assault and affray charges.
In the witness box, Dappy said he had approached two girls.
He told them that Queen guitarist Brian May had featured on his latest single Rock Star.
He claimed they didn't believe him: "They had it in for me, they really didn't want me to leave being happy with what I had been doing, which was promoting my product."
When the girls laughed at him, he said "Are you serious?"
At that point a man called David Jenkins put him in a head lock before falling to the ground.
Dappy said at no point did he punch or spit at Mr Jenkins.
When asked if he invited the girls to get into his car, he said: "I had the mother of my two kids there, she would hang me upside down if I even looked at anyone."
Two other men are also standing trial.
Kieran Vassell, 25, from Hammersmith in west London, and 32-year-old Kalonji Stewart, from Harborne in Birmingham, each deny affray.
Phone messages
Earlier, the court was told that Dappy sparked a "mob-handed attack" when he spat at Grace Cochran and Serena Burton, both 19, as they sat at a Shell garage in Guildford, Surrey, early on 28 February last year.
Giving evidence, Miss Cochran said Dappy had spat at her on the petrol forecourt.
Dappy's lawyer Paul Greaney also asked Ms Cochran about a series of messages she had posted on Twitter and BBM (Blackberry messages) about the case.
He said that on Monday night (7 January) she was sent a tweet saying "Send him down" to which she replied "Ha ha ha in the process".
She also admitted sending tweets about selling her story.
When asked by Mr Greaney if her intention by giving evidence was to gain attention and money, she replied: "We are both 19-year-old girls and the attention was good in our eyes.
"It wasn't our initial intention. I do not think that, standing here now, I want attention.
The court has also heard from Detective Constable Alex Boxall, from Surrey Police, who arrested Dappy at his recording studio.
He told jurors that the singer claimed he was the one who was assaulted.
The case continues.