Union flag seller hit by downturn from Belfast protests
10 January 2013

From the section

Politics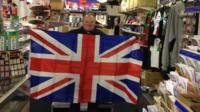 John is the one person in Belfast you might think would make a profit from the recent protests in Belfast.
Last month a decision was made to reduce the number of days the Union flag flies over City Hall.
Since then Loyalists have been holding regular demonstrations to have it put back, some of which have become riots.
Areas around Belfast, especially in the east, have seen an increase in the number of Union flags hanging from lamp-posts and houses, say some locals.
Many of the demonstrators have tied the flags around their necks.
But despite owning The Union Jack Shop on the Newtownards Road, John says his takings are down about 30% because customers have been staying away from the trouble hot spots.
"The name of the shop gives it away," he says. "We do flags, we sell key rings and mugs of the Queen. Tea towels of William and Kate, they're a big seller.
"I suppose you could call us a loyalist souvenir shop."
'Very serious'
Some of the most serious violence has occurred outside John's shop where hatchets, sledgehammers and petrol bombs have been used to attack police.
Around 100 people have been arrested so far.
"I've found a big downturn," he says. "I know January is a bad month anyway, but we're not getting the visitors in now.
"I would say we're probably 30-35% down in our takings. It's a very serious thing."
He still backs the campaign to have the flag put back and says it is as important to him as his business is.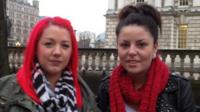 The Confederation of British Industry (CBI) estimates shops and restaurants in Belfast have lost £15 million since disturbances began four weeks ago.
Ciara, 20, works in the city centre and noticed it was quiet in the run-up to Christmas but she's surprised it's cost businesses so much.
She accuses politicians of making a big issue out of nothing.
"I never noticed the flag up there," she says. "Anyone I've spoken to about it never noticed it either. They've just caused a disturbance for everybody else."
Her friend Nicola lost a day's wages when the roads to her work were closed by police because of the rioting.
Some councillors in City Hall want the Union flag to fly on the roof all year round, which it used to do until last month - others want the flag gone completely. The compromise was to fly it 18 days a year.
Loyalists say they will keep demonstrating until the flag flies permanently above City Hall again.