Steven Spielberg film Robopocalypse is 'postponed'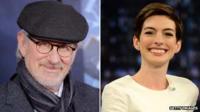 Steven Spielberg's new film Robopocalypse has been indefinitely postponed.
The sci-fi movie was set to begin filming this spring and be released in April 2014.
Robopocalypse is based on a book about a war between humans and robots and is due to star Anne Hathaway and Chris Hemsworth.
Disney has not given any reason for the delay and no new release date has been announced.
There are reports that the director wasn't happy with the script and budget estimates.
A source told the Reuters news agency that estimates for Robopocalypse were coming in at around $160 million (£99.8m), higher than Steven Spielberg had apparently wanted.
Spielberg's latest film Lincoln has been nominated for 10 Bafta awards with the Oscar nods due to be released soon.