MP criticises Kerry Katona's payday loan advert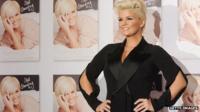 A Labour MP has criticised a decision by Kerry Katona to front a payday loans advertising campaign for CashLady.
"We've all had money troubles - I know I have," says the singer turned reality star in the 30-second clip.
The former Atomic Kitten star declared herself bankrupt in 2008.
Labour MP, Stella Creasy, said: "I'm surprised to see somebody who understands what it's like to be in debt promoting a type of debt that we know causes debt."
Creasy, the MP for Walthamstow, has been campaigning for increased regulation of payday loans companies.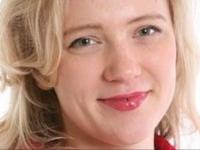 "What Kerry doesn't say in her adverts is the interest on the loans she's promoting is 2,670%.
"We know one in three payday loans taken out is to pay off another payday loan and that most people are borrowing for basics."
Kerry Katona has made a statement in response to Stella Creasy's criticism.
She said: "Having had such trauma with money I learnt the hard way to look after my finances when I went bankrupt.
"Because it's me of course there will be controversy but I think some people can be complete hypocrites on this and I'm glad we're having the debate.
"The service is just there to help out for little emergencies and is only ever meant to be a short-term loan.
"I know I wouldn't have any issue with it whatsoever so I am not going to be hypocritical and say I have a problem with it because I don't."
'Financial damage'
Stella Creasy says she is worried about a trend in advertising for loans companies.
"She (Katona) is one of a number of household names who perhaps have seen a short-term cash boost for themselves but are actually promoting long-term financial damage to millions of people in Britain."
Debt charities have also voiced their concerns about people using payday loans, which often lend money at high levels of interest.
Katona, 32, has received treatment for depression and in 2011 admitted that her mortgage and children's schooling was being paid for by her management company.
Kerry Katona was recently pictured leaving a studio with former band mates Liz McClarnon and Natasha Hamilton.
The trio are scheduled to feature in the ITV2 show Big Reunion.
The programme will also see a return for pop acts including Liberty X, boy band Five, 911, B*Witched and Honeyz.