UK military at risk from cyber-attacks, say MPs
9 January 2013

From the section

Politics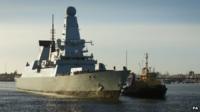 The government is being told to do more to defend against major cyber-attacks.
A group of MPs says the armed forces depend so much on IT, that a sustained attack could cripple the military.
Ministers deny they have been complacent over cybersecurity and say they are spending £650 million fighting threats over the next four years.
The report by the Commons Defence Committee warns entire combat units like aircraft and warships could be put out of action by a cyber-attack.
There is a drive to get more talented young people working in cybersecurity, a growing industry in the UK.
Boot camp
Last autumn Newsbeat was at the UK's first first cybersecurity boot camp, designed to recruit the best hackers and programmers.
Organisers say schools aren't doing enough on this.
In a basement classroom at Lewisham College in South London is 21-year-old Chris Pollock.
He's studying computing at the college and is interested in cybersecurity.
He said: "There are practice hacking websites that teach you the basics of finding a vulnerability of a website and how you could exploit that for malicious intent."
But he says it's tricky to build your skills without getting into trouble.
"Some of these security jobs you would need to know how to perform these attacks, so you understand how to defend against them, and to learn how to attack isn't easy.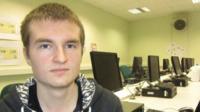 "There are not a lot of resources out there to learn how to do it, at least legally. So you're doing some quite dodgy stuff to learn about it."
Chris says politicians and intelligence agencies are right to be worried about cyber-attacks.
"When you consider pretty much everything is available online - from personal data to information about companies.
"If your security isn't up to scratch it'll be hard to keep anything private at all.
"I guess that's quite worrying. If you're getting trained security guys being defeated by 13-year-olds who've grown up with PCs - that's a worrying prospect."