Your view: Online shopping v the High Street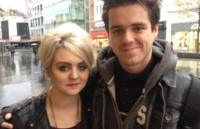 More people are doing their clothes shopping online.
The British Retail Consortium (BRC), which measures shopping sales in the UK, says without a boost in online shopping, then overall we would have bought less from shops last month than the same time last year.
That in turn affects jobs and growth.
There was though almost a 20% rise in non food sales compared to a year earlier.
Many shops now have online stores that allow you to see how things look on your body shape.
Some stores even allow you to virtually try on clothes before you buy.
Despite this only 10% of all shopping was done online but the numbers are rising.
In some cases the shops are still being used by online buyers as a testing ground to see if they can get it cheaper online later.
Sophie Borderman and her boyfriend Darren Bowman are out looking for sales bargains.
Sophie says: "I don't like having to take things back when they don't fit, shopping online just doesn't work for clothes.
"I like to try them on. I drag him to the shops and he cant stand it."
Darren would rather be doing other things.
He says: "It gets you out of shops, queues and all the stress and it's reliable.
"I just pick stuff out and on some sites you can even look how things fit on you. When you can do that why would you bother going into town?"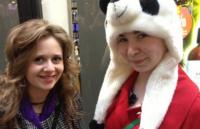 Chelsea Conway, 21, and Milly Hayden, 20, are both students and have come shopping for a dress for a university night out. They are approaching it in different ways.
"I'll go in, try it on, work out the size I need, then go home and check it out online," says Chelsea.
For Milly it's about getting into the shops and doing it now.
"I like coming in for a coffee and the social aspect of shopping," she says.
"I think it's safer that way. When you're actually handing your card over it's real money, you can get addicted to online shopping."
Chelsea admits she's the shopaholic of the group.
She says: "I can't stand queues, I come in once, try it on then shop around and get the best deal online. It still saves time and money but I know it fits."