N-Dubz star Dappy 'started garage attack', jury is told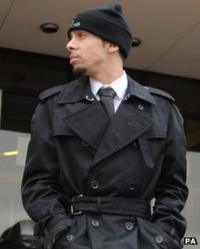 N-Dubz rapper Dappy caused an attack at a petrol station in Surrey after spitting towards two girls who refused to get into a car with him and two friends, a court has heard.
The prosecution claims that the 25-year-old's DNA was also found on the jacket of a man who stepped in to help.
Dappy, real name Costadinos Contostavlos, denies two counts of common assault on the two women, one of assault by beating and one of affray.
Two other men are also standing trial.
Kieran Vassell, 25, from Hammersmith in west London, and 32-year-old Kalonji Stewart, 32, from Harborne in Birmingham, each deny affray.
It is claimed that Dappy and his friends pulled up in a car at a Shell garage in Guildford, Surrey early on 28 February last year.
A jury has heard that he and a friend, Kalonji Stewart, got out of the car along with a third man.
While Stewart went inside the shop Dappy began talking to the girls, who were in a group sitting on the kerb outside.
CCTV footage
Prosecution lawyer Brian Stork claims that the N-Dubz rapper tried to persuade the girls to come with them in their car and when they refused he called one ugly and then spat at them, but missed.
The court heard that a man who had just met the two girls, David Jenkins, stood up to defend them.
Dappy is said to have spat at him before swinging a punch and, the barrister told the court, "it all kicked off".
Mr Stork showed the jury CCTV footage showing what he said was two other men attacking Mr Jenkins and his two friends.
It is claimed Dappy got involved when he was released from a head lock.
Tests on a saliva stain on Mr Jenkins's T-shirt showed a DNA link to Dappy, Mr Stork said.
Mr Stork said Dappy told police when he was arrested that he was attacked, put in a head lock and when his security came to help him, he got straight into a car.
He denies spitting at anyone.
Taking the stand, David Jenkins said he had put Dappy in a head lock after the singer and his friends became aggressive towards the two girls.
He claims a bigger fight then broke out which resulted in him being punched and losing some teeth.
Dappy performs in N-Dubz with his cousin and X Factor judge Tulisa Contostavlos and Richard "Fazer" Rawson.
The trial at Guildford Crown Court continues.