Artemis Fowl author to write new Doctor Who story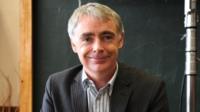 The first author of the new Doctor Who short stories has been confirmed as Eoin Colfer.
Best known for writing the Artemis Fowl series of books, Colfer's new "eshort" will feature the very first Doctor, who was played by William Hartnell from 1963 to 1966.
The story will be available to buy on 23 January and other children's authors will be writing stories in 2013.
Colfer's tale will be set in London in 1900 and deal with a "missing hand".
The blurb reads: "The First Doctor is missing his hand and his granddaughter, Susan.
"Faced with the search for Susan, a strange beam of soporific light, and a host of marauding Soul Pirates, the Doctor is promised a dangerous journey into a land he may never forge."
The author adds: "As a boy I had been reading the Doctor Who books for years before I ever saw a single episode and I found that the on-screen version of the First Doctor was almost identical to the version in my imagination."
Eoin Colfer has also written novels for adults and his latest book W.A.R.P.: The Reluctant Assassin is the first in a major new time travel series, due in April.
Doctor Who is celebrating its 50th anniversary in 2013.
In addition to the monthly stories, television specials are also planned to mark the event.