Frank Ocean stopped by police for drugs and speeding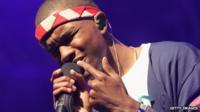 R&B singer Frank Ocean has been given a warning by police in California after they found a small bag of marijuana in his possession.
The 25-year old was pulled over on New Year's Eve for speeding at 90 mph (145 kph) in a 65 mph (105kph) area.
According to a police spokeswomen, when a deputy went to Ocean's car, there was a smell of marijuana.
A California Highway Patrol officer also gave him a verbal warning about his speed.
Ocean was also warned for driving with a suspended driver's license and having tinted front windows.
His license was confiscated and a passenger who was travelling with the singer was allowed to drive the car away.
The day before [30 December] Frank Ocean had already been stopped for speeding on the same road, heading in the opposite direction.
Ocean's representative, Heathcliff Berru, declined to comment on Thursday.
Since it happened Frank Ocean has tweeted "hi guys, i smoke pot. ok guys, bye."
The singer, whose real name is Christopher Edwin Breaux, is currently nominated for six Grammy awards, including record of the year for Thinkin Bout You.
He also triumphed in the annual HMV critics' "poll of polls" for his debut album Channel Orange.
Last year, Frank Ocean took second place on the BBC's Sound of 2012 list.