Gotye has biggest single of 2012, record year for sales
2 January 2013

From the section

Music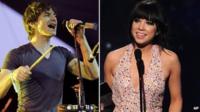 Somebody I Used To Know by Gotye featuring Kimbra was the biggest-selling UK single last year, according to the Official Charts Company.
For the fifth year in a row the record for sales of UK singles was broken, with 188.6 million bought in 2012.
The vast majority of those (99.6%) were bought as digital tracks.
Meanwhile, album sales dropped by more than 10% just reaching 100 million with Emeli Sande's Our Version of Events the biggest seller of 2012.
In a year that also saw her play at both the Olympic opening and closing ceremonies, the singer's debut sold 1.4 million copies.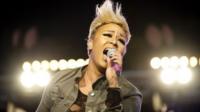 Following her in second position was Adele's 21, with + by Ed Sheeran coming in at number three.
Gotye beat Carly Rae Jepsen's Call Me Maybe in the year's singles chart, while Fun featuring Janelle Monae were third with We Are Young.
James Arthur, Psy and Jessie J all feature in the top 10 singles of the year, while One Direction, Olly Murs and Rihanna had some of the biggest-selling UK albums of 2012.
Top 10 albums of 2012
1 - Our Version of Events, Emeli Sande
2 - 21, Adele
3 - +, Ed Sheeran
4 - Born to Die, Lana Del Rey
5 - Up All Night, One Direction
6 - Babel, Mumford & Sons
7 - Right Place Right Time, Olly Murs
8 - Christmas, Michael Buble
9 - Mylo Xyloto, Coldplay
10 - Unapologetic, Rihanna
Top 10 singles of 2012
1 - Somebody I Used To Know, Gotye featuring Kimbra
2 - Call Me Maybe, Carly Rae Jepsen
3 - We Are Young, Fun featuring Janelle Monae
4 - Titanium, David Guetta featuring Sia
5 - Impossible, James Arthur
6 - Gangnam Style, Psy
7 - Starships, Nicki Minaj
8 - Domino, Jessie J
9 - Payphone, Maroon 5 featuring Wiz Khalifa
10 - Wild Ones, Flo Rida featuring Sia