Kesha's 'concerns' over Die Young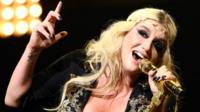 US singer Kesha's admitted she had concerns over the lyrics to her current single Die Young.
The singer's tried to clarify herself after deleting a tweet in which she said she'd been 'forced' to sing the chorus.
Some US radio stations stopped playing the track in the wake of the Newtown school shootings in Connecticut.
Twenty children were shot dead at Sandy Hook Elementary School.
'Emotion and sadness'
On her website, Kesha wrote: "After such a tragic event I was feeling a lot of emotion and sadness when I said I was forced to sing some of the lyrics to Die Young.
"Forced is not the right word."
The song features the lyrics, "Let's make the most of the night like we're gonna die young."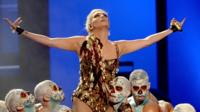 Through her online post, Kesha wrote: "I did have some concerns about the phrase 'die young' in the chorus when we were writing the lyrics especially because so many of my fans are young.
"But the point of the song is the importance of living every day to the fullest and staying young at heart, and these are things I truly believe."
After losing US radio airplay the singer tweeted that she understood why the song was "inappropriate".
On the credits to the track, the 25-year-old is listed under her full name of Kesha Sebert as one of the co-writers of Die Young.
The song reached number seven in the UK Official Chart and number two on the US Billboard Hot 100.
Follow @BBCNewsbeat on Twitter