Anchorman sequel release date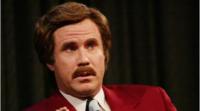 Comedy movie Anchorman has been given a release date for December 2013.
The news was confirmed on Twitter by the film's director, Adam McKay.
"It's official. Anchorman 2 has a release date: December 20, 2013. Very excited." he tweeted.
The original Anchorman film follows newscaster Ron Burgundy in 1970s San Diego as he struggles to cope with the introduction of a new, younger network co-presenter.
2004's Anchorman: The Legend of Ron Burgundy made $91m (£57.2m) at the box office around the world and subsequently became a cult hit on DVD.
When Newsbeat spoke to Will Ferrell, who plays Ron Burgundy back in May, he said:
"We are also getting a lot of people calling us up and saying, 'Can I be in the movie? I will do anything literally anything,' which is very flattering,"