Lostprophets release statement on Ian Watkins charges
20 December 2012

From the section

Music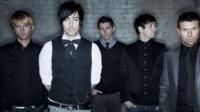 Ian Watkins' Lostprophets bandmates say they are in a "state of shock" following his arrest.
He faces charges including conspiracy to engage in sexual activity with a child under 13 and four offences relating to possession and distribution of indecent images of children.
A statement said: "Following charges made today against Ian Watkins, we find ourselves in a state of shock.
"We are learning about the details of the investigation along with you."
Signed by "Jamie, Lee, Luke, Mike and Stu," it concludes: "It is a difficult time for us and our families, and we want to thank our fans for their support as we seek answers."
Ian Watkins, 35, of Pontypridd, appeared before Cardiff magistrates facing six charges relating to sexual offences against two young children.
He was remanded in custody.
The court heard that he had not admitted any of the offences, which date from May to December this year.
A 24-year-old woman has been charged with the same offences as Ian Watkins, while a 20-year-old woman is charged with five of the same offences but not conspiracy to rape.
Bail applications by all three were refused and they are due to appear before Cardiff Crown Court on 31 December.
Lostprophets toured the UK earlier this year. Their latest album, Weapons, was released in April.
They also played at Radio 1's Hackney Weekend.