Your view: Belfast union flag protests
7 January 2013

From the section

Politics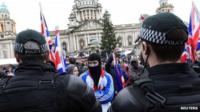 Protests are continuing over Belfast City Council's decision to stop flying the union flag at the City Hall every day.
In early December, the council voted to fly the union flag, only on designated days.
Nationalists at Belfast City Council had wanted the union flag taken down altogether.
Unionists - who want to stay part of the UK, say it's an important part of their identity.
In December Newsbeat spoke to two teenage friends in Northern Ireland on either side of the argument.
Nineteen-year-old trader Patrick wants an independent Ireland.
"I was working in the markets on Saturday (15 December) when the protests started. It was really intimidating." he said.
Lost earnings
The Christmas markets in Belfast city centre were briefly shut during the protests.
"We've lost 50% of our takings because of it. I'm worried how far the protests will go because I'm going to lose earnings."
Patrick thinks the timing of the council's decision was misjudged.
"We would've preferred the flag decision to have been made after Christmas rather than the run up to it. It's the busiest time of the year."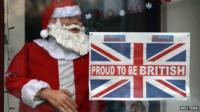 His friend, 19-year-old student Jack doesn't agree.
"Try and tell the protestors it's just a flag. Everybody knows it's a lot more than that," he said. "It represents heritage, the culture. They feel that's being eroded from them and that's why we've got this reaction."
'Represents heritage'
He added: "I don't agree with the violence. Republicans have been using that tactic for years and it's a shame loyalists are doing that too."
The protests have largely been organised on social media and Jack thinks it's not the end yet.
"There are lots more protests in the pipeline. But I don't believe protestors are trying to disrupt things because it's Christmas. At the end of the day the decision was taken before Christmas.
"Nobody can condone the violence, but the outcome was predicted and everybody was warned this would happen."