Taio Cruz says he's working on an album for 2013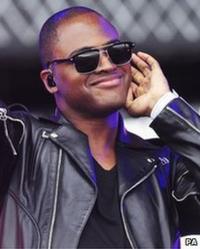 The British singer and songwriter Taio Cruz says he's started work on a new album for 2013.
The 27-year-old from London says it will be completely different to his previous two albums.
He said: "I'm toying with the idea of changing the sound entirely. For my own personal diversity.
"Also for the fans to know a little bit more about me and a little bit more about the styles of music I enjoy."
Taio, whose had number ones with Break Your Heart and Dynamite says he hopes his new music will create more hits.
"It's definitely going to be catchy, but I don't want to give too much away," he said.
The singer told Newsbeat he hadn't been in the studio for a month after taking some time off, but says he also has plans to work with other artists in the new year.
"I was working on some Kesha bits, I've been asked to do some stuff for One Direction, as well," he said.
"I'm going to hopefully get in he studio with Owl City soon.
"When I get back in hopefully in January we'll be doing all the sessions with all of these people."
v