US premiere of Jack Reacher is postponed after shooting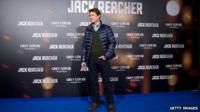 The US premiere of the Tom Cruise action movie Jack Reacher has been postponed after the shooting in Newtown, Connecticut of 27 people.
Paramount Pictures says the decision was made "out of honour and respect for the families of the victims whose lives were senselessly taken".
The Pittsburgh premiere would have been Cruise's first US media event since he split from wife Katie Holmes in June.
The film is due to open in the US on 21 December and on 26 December in the UK.
It is not known yet if the US premiere itself will be rescheduled.
Tom Cruise plays Jack Reacher - an ex-military policeman who travels the US.
Both he and the author of the Jack Reacher books, Lee Child, say they hope there will be a series of films.
The film opens with a sniper shooting several people dead.
Several premieres took place in European cities earlier this month.
The film was mostly filmed in Pittsburgh, which is why it was decided to hold the US premiere there.
A ceremony had also been planned for Cruise with Pennsylvania Governor Tom Corbett and Pittsburgh Mayor Luke Ravenstahl.
Preparations were under way for the red carpet event at the Southside Works Cinema which was due to take place on Saturday night.
Co-star Robert Duvall and director Christopher McQuarrie were also expected to attend.
The Connecticut gunman, who has been named by police as 20-year-old Adam Lanza, killed his mother before driving to Sandy Hook school and shooting dead 20 children and six adults on Friday before turning a gun on himself.