Modern Family star Ariel Winter in custody battle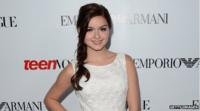 Glenn Workman, the father of Modern Family star Ariel Winter, will have temporary control of her estate, a Los Angeles court has ordered.
The actress's family have been fighting for custody of the 14-year-old, after her mother was accused of physically and emotionally abusing her.
Ariel's older sister, Shanelle Gray, was given emergency custody in October.
The temporary arrangements will remain in place until another court hearing in March and could be made permanent.
Ariel Winter plays the brainy middle daughter Alex Dunphy in the Emmy-winning comedy in America.
She has been acting since the age of seven, with appearances in shows like ER, Bones and Monk and the film Ice Age: The Meltdown.
Shanelle Gray, 34, claims she suffered similar abuse to her sister at the hands of their mother when she was young.
Chrisoula "Chrystal" Workman denies the accusations and claims Ariel is a rebellious teenager who should be returned home.
She has handed over dozens of witness statements from friends, neighbours and stylists which say they have never seen her abuse Ariel.
An initial report by child protection investigators last month found evidence of emotional abuse towards the actress, but claims of physical abuse were deemed inconclusive.
A judge at an earlier hearing was also told how staff on the Modern Family set had expressed concern about Chrisoula Workman's behaviour and Ariel's wellbeing.