Brigadier Bob Bruce: Troops in Helmand face challenges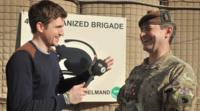 Brigadier Bob Bruce, who commands the military task force in Helmand in Afghanistan, says they are making progress but still face challenges.
In charge of 5,500 troops, he says the biggest challenge remains "developing the competence of the Afghan security forces".
"We are a security assistance force and work closely with our Afghan allies."
The Brigadier says he is still positive about the increase of insider attacks, also known as green on blue attacks.
That is where troops are attacked by the Afghan army and police officers.
"We always remain alert to our own personal safety and we take it very seriously no matter where it comes from," he added.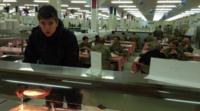 When asked if it's dangerous a job, he said: "This is a dangerous job, that's why the government has posted the British military out here.
"We accept those dangers. It's what we trained for and working alongside the Afghan army is rewarding. That's what we came to do."
According to The Ministry of Defence (MoD), as of 11 November 2012 a total of 438 British forces personnel or MoD civilians have died while serving in Afghanistan since the start of operations in October 2001.
But they say progress is happening in the country.
Work training the Afghan security forces is slowly paying off, according to Brigadier Bob Bruce.
"I notice very powerfully, the growth in confidence from the Afghan people who have lived against a back-drop of violence for more than three decades," he said.
"But now where people live and where the economy is developing they are protected by the Afghan army in hubs.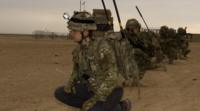 "We are here at the invitation of the Afghan government invitation. It's a really important to point."
He also wants to thank the support of the troops families.
He added: "I know the support will be just as strong looking into 2013."
He also revealed that Christmas Day would not be a day off for the troops.
"We work seven days a week, first and foremost it will be work, but after that there will be a couple of carol services and a Christmas turkey lunch," he said.
Greg James is live from Camp Bastion between 4-7pm all this week on BBC Radio 1 and BFBS.