Lindsay Lohan could go back to jail after court ruling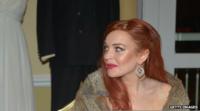 Lindsay Lohan faces the prospect of being sent back to jail after a judge in Los Angeles ordered her probation to be revoked.
New charges were filed against the actress over a car accident in June.
The 26-year-old was not present at the hearing but is already on probation for a jewellery theft in 2011.
The actress has been in and out of rehab and jail since 2007 after she was arrested for drink-driving and cocaine possession.
Another hearing over the driving charges is due next month.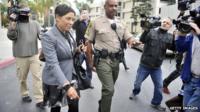 The Liz & Dick actress is accused of reckless driving and lying to police after claiming she was not behind the wheel of a car that smashed into a truck in Santa Monica, California, in June.
At the court hearing on Wednesday (12 December), Los Angeles Superior Court Commissioner Jane Godfrey said she would also set a date for another hearing questioning whether or not Lohan violated her probation and should be sent back to jail.
Lohan's attorney Shawn Holley did not enter a plea on the actress's behalf, but argued she had not violated the terms of her probation.
The Hollywood actress was also arrested in New York on an assault charge last month.