Simon Cowell to return to Britain's Got Talent on ITV1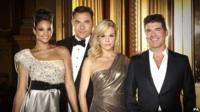 Simon Cowell has announced that he will be returning for the seventh series of ITV1's Britain's Got Talent.
The TV judge will be joined for the second year in a row by Amanda Holden, Alesha Dixon and David Walliams with the show hosted by Ant & Dec.
Last year's series was won by dancing dog act Ashleigh & Pudsey.
"I loved doing the show last year, the new panel worked really well and I'm very happy they have all agreed to come back," said Simon Cowell.
"Last year was a special year for talent and I hope that in 2013, off the back of an amazing year for Britain, we find another global star."
Judges' auditions
May's final was watched by a peak of 14.5 million viewers.
Winners Ashleigh & Pudsey won £500,000 in prize money and have since appeared at this year's Royal Variety Performance and on various shows in the US including America's Got Talent and The Jay Leno Show.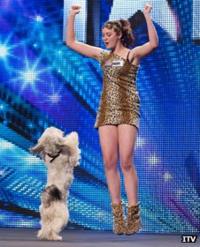 Comedian and fellow judge David Walliams said: "My Simon and I are going to be together again. I'm delighted to confirm I will be a judge on Britain's Got Talent again next year. I am so happy I could cry."
The makers of Britain's Got Talent are offering a £10,000 prize to anyone who can help find a winner for the show next year.
Viewers are being urged to tell producers about a performer they have seen in person or on the internet.
If that act goes on to win the competition, the scout will be given £10,000.
Open auditions for the ITV talent show have been taking place since October in cities across the UK.
Judges' auditions start in the New Year and will visit five cities.
The judges' audition tour dates are as follows:
Millennium Centre, Cardiff - 16 & 17 January 2013
The London Palladium, London - 20-23
Clyde Theatre, Glasgow - 28
Lowry Theatre, Manchester - 2 & 3 February
The ICC, Birmingham - 8-10