Modern Family star's sister fights for custody of her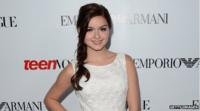 The mother and older sister of Modern Family star Ariel Winter are due in court in Los Angeles to fight for custody of the 14-year-old.
Shanelle Gray was given emergency custody of her in October after accusations that their mother physically and emotionally abused the teenager.
The actress plays middle daughter Alex Dunphy in the US comedy.
Since October Ariel Winter has been living with her sister Shanelle.
She claims she suffered similar abuse at the hands of their mother when she was young.
Chrisoula "Chrystal" Workman denies the accusations and says Ariel is a rebellious teenager who should be returned home.
She's handed over dozens of witness statements from friends, neighbours and stylists which say they've never seen her abuse Ariel.
A judge at an earlier hearing was told how people on the Modern Family set had expressed concern about Chrisoula Workman's behaviour and Ariel's wellbeing.
The trial is expected to last several days and won't be fully resolved until the new year.