Friendly Fires prepare for suicide awareness gig
12 December 2012

From the section

Music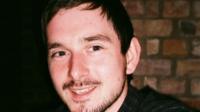 Friendly Fires say they hope their charity gig will help raise awareness about young men who may be feeling suicidal.
The band are hosting a concert to remember their friend Adam Connolly, who took his own life in November.
Drummer Jack Savidge was Adam's flatmate and described him as "very kind, very gentle and very quietly funny".
Suicide is currently the biggest killer of men under 35 in the UK.
The charity Campaign Against Living Miserably (Calm) says in 2011 the deaths of 1,240 men aged 15 to 35 were as a result of "suicide and undetermined intent".
The number is more than three times higher than women who died in the same way.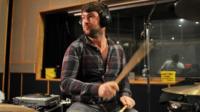 Jack hopes the gig tonight at London's XOYO venue (12 December) will be both a celebration of Adam's life and a chance to raise awareness.
He says feeling suicidal is "something you don't have to suffer with alone. There is a great deal of support there, should you seek it out."
Searching for Adam
Adam's body was found on 17 November on Hackney Marshes in east London.
"It was terribly out of character for him to be away. He's a dependable guy."
The carpenter had been missing for four days, with news of his disappearance being retweeted and circulated on social media sites.
"It's great that everyone did all they could," said Jack. "I mean thanks to Florence (Welch), and Skrillex and Steve Aiko. People we don't know but who were kind enough to do what they can."
Before Adam went missing, Jack said he didn't spot any explicit signs that his flatmate was unhappy.
"He said he had some thoughts about work, he didn't know which direction it was going...but that's sort of normal. It really felt like it came out of the blue."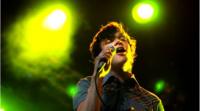 Jane Powell is chief executive of CALM which campaigns to try to prevent male suicide.
"The most overriding issue is that guys aren't supposed to be vulnerable in any way," she said. "Therefore they're stuffed at square one before even trying to tackle what's going on with them."
"The government have a suicide prevention strategy but it's really hard for them to get resources into it if publicly it's not on anyone's agenda and not seen as a problem."
Visit the BBC's advice pages if you're affected by any of the issues in this story.