Complaints about fraudulent online tickets increase
11 December 2012

From the section

Music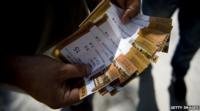 The number of complaints about online ticket fraud has increased.
According to Action Fraud, the UK's national fraud and internet crime reporting centre, the number of people complaining about being online ticket fraud has increased.
But the police unit which has been combating the problem for the last two years is set to close.
Music industry executives have told Newsbeat they are worried fans will continue to be ripped off.
The unit, known as Operation Podium, was set up to combat fraudsters for the Olympics.
Music executives, like Chris Edmonds from Ticketmaster, say its closure is a "disappointment".
Ticket scams
In 2010, Action Fraud received more than 600 complaints, that number jumped up to 7,000 last year. They say that rise was mainly down to one dodgy website.
This year more than 3,000 complaints have been made so far.
Steve Profit is from Action Fraud and said criminals are preying on fans' "desperation".
"Concert tickets are very very popular, people are desperate to see their favourite bands. People get desperate to see them and take risks on other websites.
"I think that people are now prepared to come forward to Action Fraud.
"We need to know how many people are victims to this so that police can take action against these websites."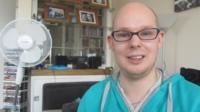 Ross Manning, 26 and from Salisbury, bought tickets to try to see Ed Sheeran in October but his tickets never turned up.
"I'd heard of ticket scams before I just didn't think it would be me."
Ross didn't know he could make a complaint to Action Fraud and he eventually got his money back.
"I was obviously disappointed that I didn't go as I was looking forward to it. To be honest, I'd just had enough and just really wanted my money back."
Rob Hallett is AEG Live's president of international touring. He says the secondary market can work, but measures need to be put in to prevent fans being ripped off.
"As long as it's traded fairly, then there's no reason why it can't be traded. It's just that at the moment, as an industry we haven't legislated for it properly.
"We're allowing all the cowboys to come in and make a killing. We as an industry need to stop that and we need to protect our consumer."
Nick Downing is in charge of Operation Podium in the Metropolitan Police and says "there is serious criminality attached to ticketing crime".
He hopes the lessons learnt on the operation won't go to waste.
"I do believe we've got a level of expertise now and a lot of hard work went into developing that expertise and we will share it."