X Factor: Christopher Maloney tops weekly results stats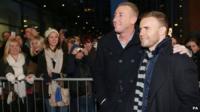 Christopher Maloney topped The X Factor's weekly voting for the first seven weeks of the show.
The singer from Liverpool, who finished third in this year's series, was beaten by eventual winner James Arthur for the first time in week eight.
In the first week Maloney pulled in 28.8% of the vote compared with 5.6% for Arthur and 13.2% for Jahmene Douglas, who finished second overall.
The breakdown of voting percentages is released after the end of each series.
On The X Factor USA the figures are released each week.
The UK statistics also show that James Arthur's share went from 13.7% to 40.7% between weeks seven and eight when he and one of the other early favourites, Ella Henderson, appeared in the bottom two.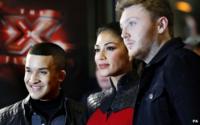 She went out that week with 12.1% of the vote.
Union J were second bottom in week seven with 14.7% with Rylan Clark on 15.7%.
James Arthur won the final against Jahmene Douglas with 53.7% of the vote.
Overall viewing figures this year were down on previous series.
Sunday's final pulled in two million fewer viewers than last year.
Figures from ITV show that Sunday night's two-hour programme had an average audience of 11.1 million compared with the 13.1 million who watched Little Mix win in 2011.
Two years ago 17.2 million tuned in to see Matt Cardle triumph in the 2010 competition.
Figures from Saturday night's show were also the lowest since 2005.
TV commentators have given various reasons for the drop, including viewer fatigue and people watching TV in different ways through on demand and catch up services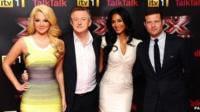 The X Factor voting breakdown 2012
Week 1
Week 2
Week 3
Week 4
Week 5
Week 6
Week 7
Week 8
Week 9
Week 10
Final
James Arthur
5.6%
7.4%
7.4%
12%
7.7%
14%
13.7%
40.7%
41.2%
51.7%
53.7%
Jahmene Douglas
13.2%
11.4%
15.6%
15.4%
16.9%
14.9%
17.4%
18.1%
22%
31.5%
38.9%
Christopher Maloney
28.8%
21.9%
22.6%
24.7%
27.6%
23.6%
26.4%
21%
18.7%
16.8%
Union J
7.3%
7.1%
5.9%
6.3%
10.4%
11.7%
14.7%
11.8%
18.1%
Rylan Clark
3.1%
10.2%
8.8%
7.2%
7.2%
12.4%
15.7%
8.4%
Ella Henderson
13.1%
9.5%
10.2%
8.2%
8.8%
13%
12.1%
District3
4%
4.7%
8.4%
10%
14.7%
10.4%
Kye Sones
4.1%
5.3%
4.9%
10%
6.7%
Jade Ellis
4%
5.2%
5.1%
6.2%
Lucy Spraggan
7.3%
7.6%
6.5%
QUIT
MK1
3.4%
5.1%
4.6%
Melanie Masson
3.2%
4.6%
Carolynne Poole
2.9%