The xx launch a new one-day festival for summer 2013
11 December 2012

From the section

Music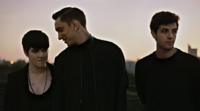 The xx have announced that they are launching a new one-day festival in summer 2013.
The group say it will be called Night + Day and take place in Portugal, Berlin and London.
Singer Romy Madley-Croft said: "We just wanted to do something different. We're big fans of choosing the food and drink. The way you experience things.
"The main thing for us is choosing the music. We'll be getting together bands who we really respect."
The event will take place on 23 June at Osterley Park and House in Isleworth, west London.
The xx will headline in what will be their biggest show to date in the UK.
"That's going to be pretty nerve-wracking," Romy Madley-Croft said. "It will be really nice to do something special in London.
"We hope this will be a different experience to other festivals. It will feel more like one of our gigs."
The band wouldn't reveal who else would be performing.
"We're just going into it headfirst and hope that everyone has a good time," she said.
The xx won the Mercury Prize for their self-titled debut album in 2009. Their second second album Coexist was released in 2012.