Ruth Jones says Gavin & Stacey USA may not happen
The much hyped American version of Gavin & Stacey may not happen, admits the co-creator and writer of the show Ruth Jones.
"I want to stamp out this idea that there's going to be this American Gavin & Stacey," sighs Jones, who also played Nessa in the hit British comedy.
"All they've done is commission a script, they might not even make a pilot."
Gavin & Stacey aired in the UK from 2007 until 2010.
What's not occurring?
In October it was reported that Jones and her co-writer/creator James Corden were executive producers on a new American version of the comedy.
"Right, I'm going to go on the record about this," says Jones. "It's the third time it's happened and I have no idea why all of a sudden it's all over the press.
"NBC had a script made of it, ABC had a script and it was going to go to a pilot and then they dropped it, and now Fox have commissioned a script and that is all that has happened."
Fantasy wages
Ruth Jones, who is working on a new series of her Sky1 series Stella and admits she's also bemused about reports the supposed Gavin & Stacey USA has made her incredibly rich.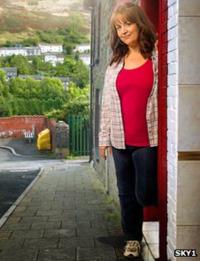 The actress chuckled, saying: "I read in the press that apparently I'm making £5 million?
"Can I just go on record as saying I am not making £5 million?
"So to all my family and friends who think they may be getting a really nice Christmas present this year, sorry. [It] isn't gonna happen."
Jones admits she's "gobsmacked" there's been so much hype about a potential US version of the comedy but leaves the smallest glimmer of hope for fans.
"I mean it could happen, but I could win the lottery," she says.
"I mean it is literally like that at the moment."